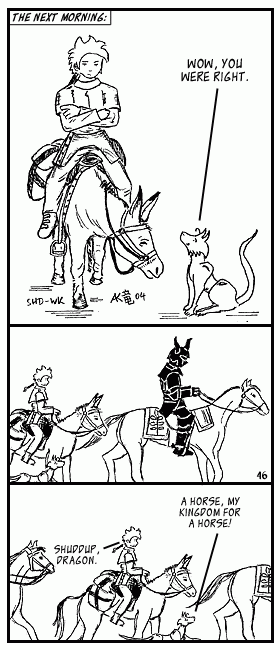 Current mood: Tired.

Alegrķa
Como la luz de la vida
Alegrķa
Como un payaso que grita
Alegrķa
Del estupendo grito
De la tristeza loca
Serena,
Como la rabia de amar
Alegrķa
Como un asalto de felicidad


Sometimes it's good to listen to music that one hasn't listened to for ages, especially if it is music which invokes memories... I saw Cirque du Soleil's Alegrķa in Germany in 1996. I don't remember too much of the show itself, but the music still brings back emotions...

Spiky's Link of the Day:

The BIGGEST SUBWOOFER of the WORLD! OK, enough shouting, that thing is loud enough I guess ;P

Author's notes:

Yeah, I love the first panel, but the second one seems rather empty ... But if I had drawn some trees in the background, I would have messed it up, and if I had put in some dialogue, that wouldn't be good either (ignoring the fact that I have no idea what I could have put there anyway ;)).
I guess I'll leave it at that then.